Colorful Easter fun in the PAYBACK app
With the new game "Oster-Bubble-Shooter", a casual game by kr3m for the PAYBACK app has now gone live once again. We are pleased that the cooperation with PAYBACK continues to grow and that we are building on the successful campaigns of 2021. In keeping with the Easter season, PAYBACK app users have been able to play the fun Bubble Shooter game since Monday, March 28, 2022, firing colorful Easter eggs with the Easter egg cannon. The casual game is based on the tried-and-tested bubble shooter game principle, in which balls of the same color have to be brought together and thus cleared away. For the Easter look, the game has been given a seasonal touch and has been provided with colorful Easter eggs. The challenge of the game is to collect points by clearing the eggs, reach the level goal and thus qualify for the exclusive PAYBACK app competition and get hold of great prizes. By playing as many levels as possible, new competition categories with high-quality prizes can be unlocked.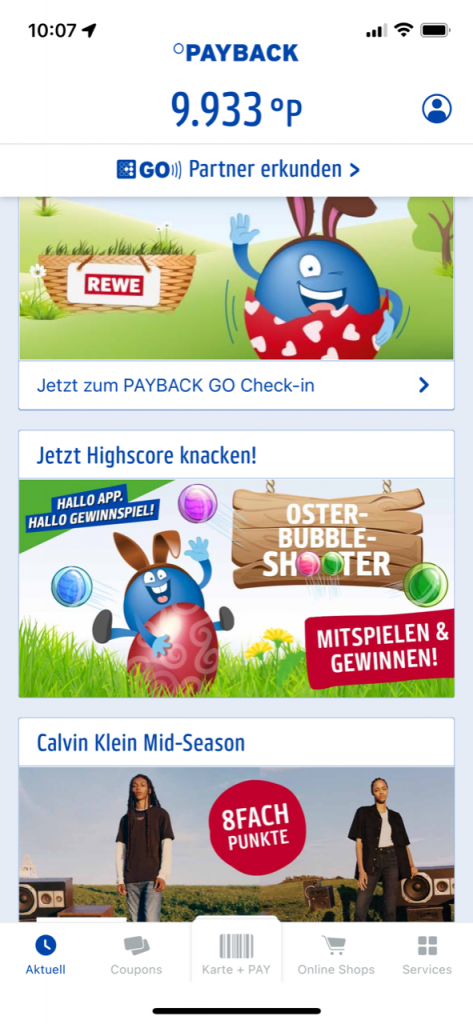 Why are games the optimal complement for a successful loyalty program?
More interaction for even better customer retention – loyalty programs benefit from an active user base. However, this user base must be repeatedly addressed and encouraged to interact. PAYBACK, Germany's leading bonus points program, achieves this with HTML5 games from kr3m. The simple idea behind this is no secret: by integrating games, app users can be encouraged to participate in promotions and receive rewards for doing so. This creates a positive user experience that strengthens the relationship between brand and customer.
A look at past campaigns in the PAYBACK app shows that the integration of proven game principles from the kr3m Playground prompted a large number of users to interact with the PAYBACK app. For example, the gemstone game "Exchange" recorded up to 540,000 unique users per day in December 2020, the wintry game "Snowball" from January 2021 generated 190,000 unique users per day, and in midsummer 2021 a total of around 490,000 unique users played the game "Surfracer", which is inspired by the sea and vacations. The success proves the campaigns right: while the entertaining games increase interaction and thus also the time spent on the app, the seasonal game theme additionally appeals to app users. This shows: Good games, integrated into good campaigns, can be used as an effective measure to expand customer loyalty and also for the broad-based placement of advertising content.
Would you like to learn more about gamification and learn from our experiences? Then we recommend our blog post.