The Online Advent Calendar 2021 from DER SPIEGEL
Every day, users can look forward to great prizes worth a total of over €70,000 in the online Advent calendar from DER SPIEGEL in 2021. The attractive prizes behind the 24 doors come from well-known manufacturers such as VW, Philips, Sonos, Quelle and others. Christmas campaigns for adults like these are more in demand than ever and, with professional performance, generate more traffic, more users, new customers and are an efficient way of building customer loyalty.
Since 2002, kr3m has been offering online Advent calendars with game elements and contest opportunities, which have been used successfully by major publishing houses and media companies. This year, we are pleased to announce the Christmas cooperation project with DER SPIEGEL.
The success of Christmas campaigns – customer loyalty and ad revenue
The answer to the question of why marketing campaigns are so successful, especially during the Christmas season, is clear from our point of view.
Online advent calendars or Christmas competitions draw the attention of both existing and new customers to the company's own portal or online store. In addition, retention is created. This means that customers are motivated to return regularly and a positive brand identification takes place. In addition, this type of special promotion during Advent can generate valuable addresses that enable customer contact throughout the year.
Another important point is the revenue generated by ads and revenue share. By visiting the Advent calendar, ads are played out that lead to revenue and are shared among the cooperation partners. This not only acquires new customers and strengthens the bond with existing customers, but also increases your company's sales.
Trend with strong economic potential – online Advent calendars are booming
The market for Advent calendars is growing year by year. With growing popularity, the calendar variants and also the target group have changed significantly. While it used to be mainly children who enjoyed opening the doors every day, there are now Advent calendars for adults of all ages and for every walk of life. With the advent of digital Advent calendars, the Advent business has once again undergone a profitable development.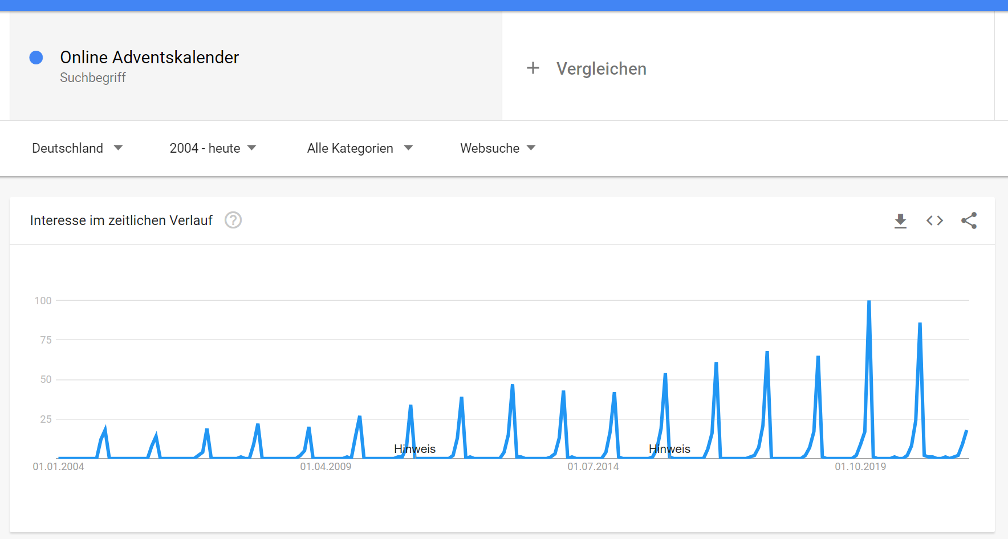 Ein Blick auf Google Trends offenbart, dass der Suchbegriff "Online Adventskalender" hohe Bedeutung gewonnen hat. Datenquelle: Google Trends (https://www.google.com/trends)
The high number of search queries for online Advent calendars indicates enormous interest and heightened expectations on the part of users. It is clear that the tradition of the Advent calendar not only stokes anticipation in the real world – opening the doors in the run-up to Christmas has also become established in the digital world and is simply part of it.
The kr3m christmas package
In order to meet users' expectations for Christmas gaming fun, kr3m's classic online Advent calendar was equipped with the newly developed lottery mechanism last year. This allows users to collect more and more raffle tickets by playing the integrated online games. Playing the games increases the time spent on them. Valuable time that we can use for profitable ad playouts. We offer the connection of the advertising media of the marketer of your choice – display and video, desktop and mobile.
In addition, the online advent calendar is optimized throughout for all relevant end devices and the calendar can be opened from anywhere and at any time. The more raffle tickets the user collects, the higher his chance of winning one of the 24 daily prizes or even the spectacular grand prize.
All the advantages of the online advent calendar:
SEO boost through customized content
income through ads and revenue share
the great prizes create a high incentive for retention and frequent user interaction
cross-media promotion of the advent calendar
Positive brand perception is strengthened
Regular customers are sustainably inspired
positive user experience
Thanks to years of successful cooperation with a wide variety of retailers and companies, we at kr3m can draw on a wealth of experience when it comes to acquiring prizes. In addition to first-class technology prizes, we can also offer high-priced trips and shopping vouchers for the online Advent calendar prize draws.
Plan your next Christmas campaign now with kr3m